Nepali Muslims boycott the Movie "Badshah Jutt"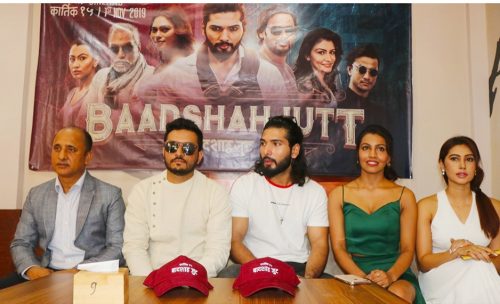 Kathmandu, (Carekhabar Reporter)
The movie, Badshah Jutt, is set to be released from the coming November month. The directors of the movie are Joni Singh Rana, actor Sushil Shrestha, actress duo Kaisha Rawat, Rashmi Pandey and producer Hark Bahadur Kunwar.
The protest has been spread-ed  by the Muslim community since the day the cinema team released  the trailer . The trailer of the film depicts people wearing kurta Caps reflecting the cultural wear of the Muslim community. The outfit of a group of terrorists has been linked to the dress of the Muslim community.
Such scenes of the trailer have prompted protests from Muslim community leaders around the cinema team.
Since Nepal is a multilingual multi-culturally diverse country, the movie sector should also protect the characteristics of the nation, said Muslim leader Mobin Khan.
Caretaker President and Samajwadi Party leader Mobin Khan has also urged Hark Bahadur Kunwar, the producer of the movie, to remove such scenes only by performing such scenes.
The issue has been strongly opposed by the leaders of social religious organizations including the Nepali Congress, Muslim Union, Islamic Union Nepal, Jamiat Ahle Hadith, Jamiat Olma Nepal, Nepal Moharram Committee, Urdu Academy Confidence Nepal.
The Muslims say such films will come to the market and will harm the entire community and the nation as the Muslim community is being codified.
They claim that the defamation of the community and the image manipulation are intolerable.
Abdul Sattar, president of the Muslim Union of Nepal, has informed Kerakhbar that if the movie is not corrected, then the country will have strong protests across the country.
The movie also stars actors such as Rovin Tamang, Roshi Khadka, Deepak Chhetri, Kamalmani Nepal. If so, Priyanka Karki can be seen in the guest role.
The cinema, written by Abhishek Shashi Kumar, contains the cinematography of the best Humagai, the action of Rajkumar Upreti, the editing of Dirha Khadka, the music of Krishna Bhardwaj, Koshish Chhetri and Mohit Munal.