Aarif khanyari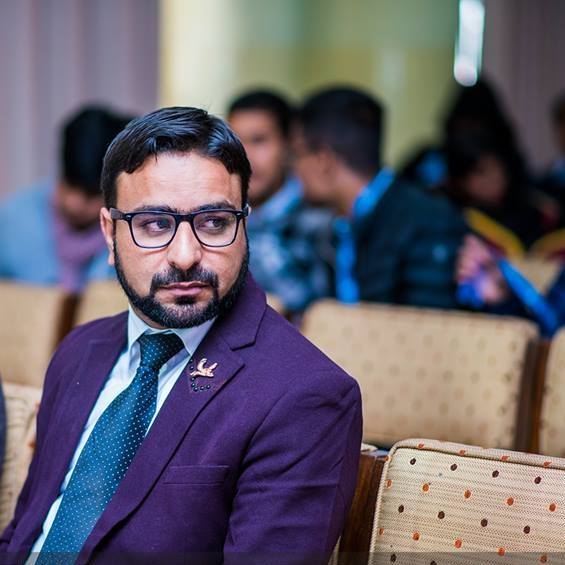 Interview Questions
Aarif Khanyari is a Kashmiri entrepreneur based in Kathmandu Nepal. He has started two ventures in Nepal, ESOS Global and AliKart. ESOS Global is a business training and startup development company, while AliKart is an online, ecommerce for fashion and services.
A journalist turned entrepreneur Khanyari started his career in entrepreneurship in 2012 from his homeland Kashmir, and founded Ali's de Jewels, first Jewellery brand from Kashmir. He was selected as fastest young growing entrepreneur in 2013 and participated in the Global Summit in New Delhi India.He also participated in the SAARC Hackathon business plan competition in Bengaluru and represented Kashmir in international forum.
Khanyari got many entrepreneurship trainings from National and International organizations, including five trainings from the domestic entrepreneurship development institute J&K EDI. He was amongst the first trainee batches trained by EDI Srinagar when it was in Poloview Srinagar.
In 2014 floods he faced a big loss in business but he didn't lose his will and wish to continue as entrepreneur. He travelled from Kashmir to Rishikesh, Dehradun, Bengaluru and continued doing some startup and finally ended up in setting up two successful ventures in the land of Himalayas Nepal. From last three years Khanyari is working in Nepal market and a first Kashmiri to do something out of the box, doing other than Kashmir Arts and Shawl Showrooms. He is a business trainer and mentor for more than 20 Startups in Nepal and is successfully leading the e-commerce and fashion startup by the name of AliKart.
Khanyari received many recognitions and awards in Nepal for his work. Some excerpts of his interview are below:
Question#1: Mr. Khanyari you have founded so many businesses that are working great as on date. So how has been the journey? Any challenges?
Well, being in startup and entrepreneurship my journey has been challenging and tough, but all I can say is I loved the journey and this great experience is still going on. I have learned one thing that success is keep going and struggling, the day we stop we die. I have enjoyed the journey so far.
There have been many challenges, the biggest challenge is when you have a dream, an idea to do something out of the box and the people around you doesn't believe in you and ultimately you come up with the success. The other challenges like finance, investment, market, sales, competition, team and so on I do not consider those as challenge rather they are the part and parcel of the game, the biggest challenge is believing firmly in yourself when everyone says "No".
Question#2: Online purchase of food and grocery is gaining good traction in developing countries like India and Nepal as well. How is Alikart performing in the market?
In online we have a quit amazing experience, in food AliKart is the first online platform to sell Halal Chicken and Momos, we had a super good response and fortunately we were acknowledged and admired by many customers and organizations who were buying from us. AliKart is taking pace day by day and it is becoming talk of the town in Nepali Market. We are the first in Nepal to expand our services out of Kathmandu with our presence in Pokhara and soon starting in Dharan.
Question#3: Some 10 years ago, we didn't have online grocery stores but at present people have actually started relying on online stores for their grocery shopping. Please share your views on this.
With the introduction of Online stores and ecommerce the world has completely changed. Before buying anything or any idea that comes in mind we search it online. Same is the case with grocery stores, many big players in Kathmandu have either switched or added online option for their customers, which is a great achievement. Although it has become a tough competition for the players to sustain with the grocery discounts and deals, still it is doing great and growing with the time.
Question#4: Please share something about your target market/ audience and how do you reach out to them?
AliKart at its inception before a year had two domains: Food and Fashion, since we found the better option to continue with the fashion we opted to skip food domain, hence we can say AliKart is growing a full pace in fashion industry and our all team is focusing on making AliKart a leading and number one online choice for the customers.
We essentially use the offline and online marketing tools. Be it events or exhibitions, or be it presence on social media and selling online using all the available and result oriented social media apps. Our target audience or market is Youth. We target youth. We do research, talk to people, analyze the requirements and essentially the service part through online, we get our share from the targeted market, but I should say that this is the very beginning of AliKart, we have the bigger aims to achieve.
Question#5: Due to its inexpensiveness and targeted reach a number of players are entering the online space. What differentiates you?
AliKart is providing a different shopping experience. We thrust on services and quality products more other than huge sales, we love our customers and we create a relationship with them, we have created a team for CRM customer relationship management so we retain the customers and we consider our success with the rate of retention of the valuable customers.
Question#6: Apart from food & grocery, you are covering fashion and accessories as well. Any plans to enter new categories over the next year?
I have answered this in above question. We are fully focused on fashion now. There is all that comes in fashion for the both genders, be it Garments, Fabric, Jewellery, Cosmetics or Footwear. We are working day and night to source the best quality products and put it on AliKart, not only products, our team is working on registering the best fashion designing boutiques and freelance fashion designers who will be available online to showcase their work. We are coming up as the first online platform that will have such kind of service for the customers. Till the end of the 2019 our plan and target is fix, and we are achieving that with pace.
Question#7: You are increasing market sphere for your company by expanding its services to India as well. So, which Indian cities are you planning to cover by the end of this year?
That is a big success for us. We have offers from many people in India to start AliKart. We finally have agreed to start AliKart in North India and South India with a base in Jaipur and Bengaluru.
Question#8: With big ecommerce players like Amazon and Flipkart joining the food & grocery space, is the overall market becoming more challenging?
Indeed, market is challenging and it is going tougher than before. There may be a big share for big players but that does not mean new players should stop.
Question#9: Smartphones have become ubiquitous making it more & more crucial for businesses to have a mobile based marketing strategy! Please share your views on this?
This is a very important and interesting question. Let me share my story, when I relocated from Bangalore to Kathmandu my laptop was stolen the only source to start my first company ESOS Global was my Motorola Mobile. And for next 6 months all the wonders done was by my Mobile. I remember I used to create events of business workshops for the startups in Kathmandu and market them on the mobile only that was all I had in that crucial time. One mobile, one staff that was me and one resource person again me to make ESOS a success. Then we founded AliKart a retail domain, we have a team of 20 people, 6 outlets and a big presence in social media now, but I still give a big credit to my Motorola Mobile. 🙂
Mobile marketing is the next and biggest base for businesses, and we should not skip it or shouldn't be skeptical about it.
Question#10: Something that you would like to put across to those who are aspiring to become an entrepreneur and launch their own venture one day?
Have strong belief in only one thing and that is YOU. You can change the world, if you are strong enough to face the challenges with honesty, sincerity and a vision. Work hard, find a good mentor, polish your idea every day. One-day success will touch your feet.