Saudi Crown Prince Mohammed bin Salman sparks online style storm with Barbour jacket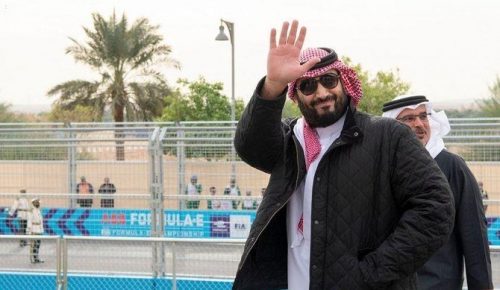 DUBAI: Crown Prince Mohammed bin Salman was photographed attending the Formula E races in Riyadh on Friday and for the occasion donned a navy-colored Barbour jacket worn over a crisp white thobe that immediately sent the internet into overdrive.
The outerwear item by British heritage brand Barbour sparked its own Arabic hashtag on Twitter — that translated to "Crown Prince's jacket"— with many taking to the social media platform to admire the look.
"What a magnificent jacket," wrote one user on Twitter.  Another chimed in, "Really the biggest advertisement you could ever have." Indeed, a royal co-sign from the crown prince of the Kingdom of Saudi Arabia is not to be understated.
In fact, some people even went as far as purchasing the same quilted jacket just 24-hours after it was spotted on the royal, posting screenshots of receipts of their purchase on their Twitter accounts.
One user shared a photograph of the jacket, simply writing "Got it."
MBS accessorized the Barbour Chelsea sports jacket with a pair of Tom Ford aviator sunglasses and black Adidas Yeezy Boost 350 trainers that further lent an athletic twist to the otherwise casual ensemble.
(SPA)